About Us
Why Another Cigar Review Blog?
Thanks for taking the opportunity to look at us.  We are a new cigar review blog created by some internet and small business marketing people with a passion for cigars.  While we speak on small business and internet marketing topics, we are always looking for examples of great internet usage.  So, rather than look, we decided to create one.  This is it.
Over the months and years ahead, we'll use this forum to provide cutting edge advice on how to capitalize on internet marketing opportunities.  We'll show how to increase readership, boos social media visibility, and run contests and other engagement vehicles.
So come along for the ride with us.
Features
In the course of our normal blogging, you can expect to find cigar reviews, a new post regularly, contests, general cigar information, news and notes, and a cigar events calendar. We encourage participation. Please leave comments on the reviews, enter the contests, and add to the events calendar. It's your CigarMayven.com too!
Our Reviewers
We have a group of five experienced cigar smokers who suffer the toils of smoking to provide these reviews for your consumption.  We are all with different backgrounds and tastes when it comes to both cigars and beverages.  And, we are in different parts of the country, so you just might see us at any event.
Stuart Altschuler
A long time Boston resident, Stuart still considers himself a Boston guy despite living in southwest Florida for the last few years.  Stuart started smoking cigars at age 13 when he and all of his friends were being Bar-Mitzvahed.  He 'borrow' the cigars sitting in the ashtrays when husbands would be dragged onto the dance floor by their wives.  He cut off he chewed heads of those cigars and could quitely enjoy his first smoking pleasure under the back stairs.
Nowadays, poolside enjoyment of cigars is more common.  His taste tends to run to stronger cigars, but he smokes across the board in terms of strength, size, and shape.
"There is nothing better than a good cigar with friends".
Favorite Cigar: Cuban MonteCristo #2
Favorite Beverage: A nice small batch bourbon, but more often Diet Coke.
Ben Goldsmith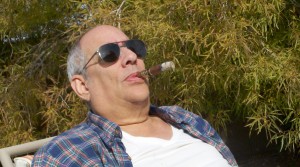 Now here is a guy who knows how to enjoy a cigar.  A semi-retired pharmacist, Ben has been smoking cigars forever.  Since he lives in Las Vegas he categorizes his cigars into three distinct classes: Not smokable, machine cigars, and pay attention cigars.  Obviously the first class is self explanatory.  Machine cigars are cigars that are well made and good enough to want to smoke, but not so good as to require your attention.  These are the cigars favored while playing video poker at the machines in the casinos.  This type of cigar must stay lit and burn well even if Ben is distracted by people asking him to put out the cigar or less likely, Ben winning.  Pay attention cigars are thsoe too god to ignore.  You want to smoke these slowly and enjoy the nuanced flavors.
Favorite Cigar: Avo 80th Anniversay
Favorite Beverage: Port
Doug Pope
I retired from a 35 year carrer of auditing large global organizations. On my employers ticket, I smoked a variety of cigars on every continent except Antarctica, although I was close by in Patagonia. Cigars are one of my retirement hobbies and I have a weakness for the milder type.
Favorite Cigar: Monte by Montechristo and La Gloria Cubana Series R
Favorite Beverage: Single Malt